Davey Swag finally has everything he needs to be a real pirate - now he can set out on a life of adventure on the high seas ... although it's not turning out quite as he imagined.
The Shadow Queen by C.J. Redwine
Lorelai, the crown princess, has one mission: kill the wicked queen who took both the Ravenspire throne and the life of her father.
Lorelai needs to use the one weapon she and Queen Irina have in common—magic.
Watch the book trailer here and then enjoy reading the book.
A selection of the 2017 Carnegie short list books are now available to browse and borrow in the

Discovery

and

War Memorial Libraries

.
Rail Head by Philip Reeve
This novel is a mix of science fiction, fantasy, romance and thriller, and is set in a futurist world where characters travel across space and time. Philip Reeve is always a very engaging writer, who uses humour and wit to great effect. Take a look at Philip Reeve's book trailer here.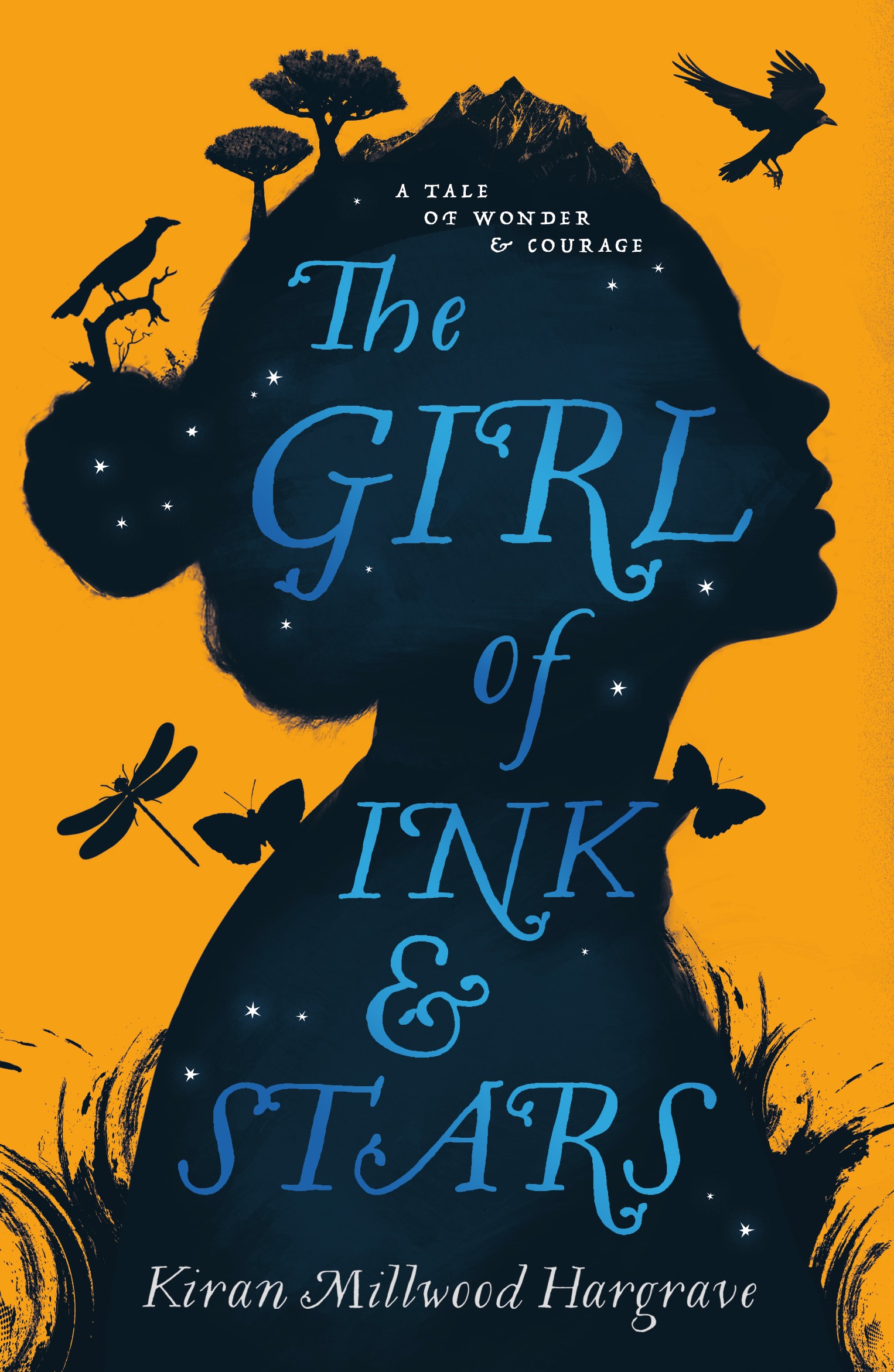 The Girl of Ink & Stars by Kiran Millwood Hargrave
is a magical tale of wonder and courage. Beautifully illustrated, it will appeal to fans of Katherine Rundell and Frances Hardinge.
Next one in the series ….
Your wait for the next book in your favourite series is over!:
"Shouldn't You Be In School?"
and
"Why is this Night Different from Other Nights?" -
the latest titles in the
All the Wrong Questions by Lemony Snicket.
Jolly Foul Play
-
the fourth in the excellent Murder Most Unladylike series
Top of the Class (Nearly)
and
Yes! No (Maybe ...)
by Liz Pichon from the ever popular Tom Gates series.
The long awaited
Maximum Ride Manga. 9
by James Patterson
The new 'Wild Boy' series by Rob Lloyd Jones looks interesting!
Watch the moving
book trailer
of Lily Alone and then read the book.
We have the fantastic Ruby Redfort Series in the Discovery Library.
Check out Lauren Child's website
here
and her book trailer here.


Once Upon a Wartime
We have a thrilling new
cyber crime
series called
Outlaws
by Peter Jay Black. Full of fast-paced action and gadgets and set against a background of computer hacking, criminal gangs and the secret services, these books will appeal to fans of Robert Muchamore, Anthony Horowitz and Alex Scarrow. To find out more about the author and for free downloads go to http://www.urbanoutlawsbunker.com/author.
"The Haunting of Sunshine Girl" by Paige McKenzie has its own YouTube network. Check it out here:



House of Secrets is an exciting new series by two master story tellers. Chris Columbus is the director of Harry Potter and Home alone and writer of Gremlins.



Thrilling Reads


L

ooking for a gritty thriller?


Why not try the excellent

Lottery Boy

by Michael Byrne, about a boy who leaves home to live on the streets after the death of his Mum and later discovers that she gave him a winning lottery ticket. Unfortunately he is not the only one who is after the prize ....


The latest novel by Frances Hardinge,

The Lie Tree

,

is a dramatic Victorian thriller about a girl who is determined to find out the truth after her father dies suddenly in mysterious circumstances.


The Glory

by Lauren St John, is a thrilling adventure about Will and Alex who, for very different reasons, decide to compete in an endurance horse race across the West of America for a $250,000 prize.
Murder, Mystery, Action and Adventure






Next one in the series ….
Your wait for the next book in your favourite series is over!



Once Upon A Dork

, 8th in the hilarious Dork Diaries series by Rachel Renee Russell

All That Glitters,

4th in the award winning Geek Girl series by Holly Smale

The Snake Trap

, 3rd in the thrilling Travis Delaney Investigates series by Kevin Brookes, winner of the CILIP Carnegie Medal 2014

The 2015 Carnegie short list books are now available to browse and borrow in the Discovery and War Memorial Libraries.
The themes this year include war, sickness and adversity
.
Apple and Rain
by Sarah Crossan, is about a girl called Apple whose mother returns after eleven years. Apple feels whole again but her mother's homecoming is bitter sweet. It is only when Apple meets someone more lost that her that she begins to see things as they really are.
Cuckoo Song
by Frances Hardinge. When Triss wakes up after an accident, she knows that something is very wrong. She is insatiably hungry; her sister seems scared of her and her parents whisper behind closed doors. She looks through her diary to try to remember, but the pages have been ripped out. Soon Triss discovers that what happened to her is more strange and terrible than she could ever have imagined, and that she is quite literally not herself. In a quest to find the truth she must travel into the terrifying underbelly of the city to meet a twisted architect who has dark designs on her family – before it's too late …..
The Fastest Boy in the World
by Elizabeth Laird. Eleven-year-old Solomon loves to run! The great athletes of the Ethiopian national team are his heroes and he dreams that one day he will be gold-medal-winning athlete like them, in spite of his ragged shorts and bare feet.
Buffalo Soldier
by Tanya Landman. Charley, a young African-American slave from the Deep South, is freed at the end of the American Civil War. However, her freedom is met with tragedy after her adopted mother is raped and lynched at the hands of a mob, and Charley finds herself alone with no protection. In a terrifyingly lawless land, where the colour of a person's skin can bring violent death. Charley disguises herself as a man and joins the army. Trapped in a world of injustice and inequality, it's only when Charley is posted to Apache territory to fight "savage Indians" that she begins to learn about who she is and what it is to be truly free.
The Middle of Nowhere
by Geraldine McCaughrean. When her mother dies from a snake bite, Comity's life in the Australian Outback changes for ever. With her father lost in his grief, Comity makes friends with Fred, the Aboriginal yard boy. But then the evil Quartz Hogg arrives, who delights in playing cruel games. When he sets his murderous sights on Fred, it's up to Comity to stop him.


We have a very funny new series call PIG, come and check it out.
Fantasy Adventure

If you enjoyed the magical world of CS Lewis's Narnia, try

The Twistrose Key

by Tone Almhjell. "Something is wrong in the house that Lin's

family

has rented; Lin is sure of it. The clocks tick too slowly. Frost covers the flower bed, even in a rain storm. And when a key marked 'Twistrose' arrives for her, Lin finds a secret gate in the cellar which leads her to the snowy world of Sylver."




War-time adventures
Both set during World War II, these are two very different war-time adventure stories:
The Children of the King
by Sonya Hartnett is about three children who have been evacuated from London and sent to live in the countryside. A mysterious adventure sparked by the discovery of two boys hiding in a derelict castle ensues. If you like The Lion, the Witch and the Wardrobe by C.S. Lewis try this.
The Eagle Trail: Who is the Traitor Among Us?

by Robert Rigby is a thrilling action adventure story set against the background of war-time resistance. Paul must flee Nazi-occupied Antwerp, where his father has been shot and his mother arrested, and make his way across Europe to England and safety. Discover whether he makes it!




We have the latest Jo Nesbo series in the Discovery Library

.
What are they about? Errrrrr, we will leave you to work that one out!!!
Watch Jo's youtube video below

.
Supernatural spine-chillers
Thrilling Reads!
Allies and Assassins

, is the first book in a thrilling new series Enemies of the Prince by Justin Somper.

Described on Lovereading4kids.com as the teen version of Game of Thrones, it involves murder, betrayal, intrigue and romance.
Selected as one of the top ten teenage novels of 2013,

She is Not Invisible

by Marcus Sedgwick is a thrilling mystery set in New York.
We have the first in a new series from the author of The Maze Runner books.

The Eye of Minds by James Dashner begins the Mortality Doctrine series.

The story is set in a dystopian world against a backdrop of cyberterrorism.
If you are looking for fantasy and adventure with a dash of humour, try Neil Gaiman's

Fortunately, the Milk

.

With time-travelling dinosaurs and pirates, it is a hilarious read!
September Reads
Long awaited Alex Rider!
CARNEGIE SHORTLIST BOOKS
The list is unusual this year, as half of the nominated titles deal with kidnap and captivity.
The Rooftoppers by Katherine Rundell, tells the story of Sophie, who is found floating at sea in a cello case and is rescued and adopted by Charles. Assumed to be an orphan, Sophie is convinced that her mother is still alive and sets off to Paris to try to find her.
Liar and Spy by Rebecca Stead, winner of The Guardian's Children's Fiction Prize 2013.
Georges has a lot going on. He's having trouble with some boys at school, his dad lost his job and so his mum has started working all the time - and they had to sell their house and move into an apartment. But moving into the apartment block does bring one good thing - Safer, an unusual boy who lives on the top floor and runs a spy clu
b.
Blood Family
by Anne Fine is a dark and emotional and looks at how dysfunctional families can have a heart-breaking impact upon a child's development.
The Child's Elephant
by Rachel Campbell-Johnston is a thought provoking and compelling read, and tells the story of Bat, a young who takes home and cares an orphan elephant. His life then takes a shocking turn as he is catapulted from the security of village life into a new life of terror as a child soldier.
Ghost Hawk by Susan Cooper is a historical novel, set against a changing world where English settlers are landing on the shores of the New World creating tension between native tribes and invaders. Murder and intrigue ensue.
We also have the next in the series of Skulduggery Pleasant, detective, sorcerer and warrior. Skulduggery Pleasant: Last Stand of Dead Men sees Skulduggery teaming up with Valkyrie Cain in a war between Sanctuaries.
Darkus Knightley is not your average thirteen-year-old: ferociously logical, super-smart and with a fondness for tweed, detective work is in his blood. His dad Alan Knightley was London's top private investigator and an expert in crimes too strange for Scotland Yard to handle, but four years ago the unexplained finally caught up with him - and he fell into a mysterious coma. Darkus is determined to follow in his father's footsteps and find out what really happened. But when Alan suddenly wakes up, his memory is wonky and he needs help. The game is afoot for Knightley & Son - with a mystery that gets weirder by the minute, a bestselling book that makes its readers commit terrible crimes, and a sinister organisation known as the Combination . . .
We now have the whole Maximum Ride series in Manga form
Next one in the series ….
Holiday Heartbreak

, 6th in the hilarious Dork Diaries series by Rachel Renee Russell

Theodore Boone: The Abduction

by bestselling author John Grisham, follow up to legal thriller

Unleased:

Speak Evil

by Ali Sparkes - 4th book in this award winning supernatural series

The continuing adventures of Barry Loser in

I am so over being a Loser

by James Smith

We have a new series on the shelves called 'Maximum Ride'
Fourteen-year-old Maximum Ride, better known as Max, knows what it's like to soar above the world. She and all the members of the "Flock" — Fang, Iggy, Nudge, Gasman and Angel — are just like ordinary kids — only they have wings and can fly. It may seem like a dream come true to some, but their lives can morph into a living nightmare at any time — like when Angel, the youngest member of the "Flock," is kidnapped and taken back to the "School" where she and the others were genetically engineered by sinister scientists. Her friends brave a journey to blazing hot Death Valley, CA, to save Angel, but soon enough, they find themselves in yet another nightmare — this one involving fighting off the half-human, half-wolf "Erasers" in New York City. Whether in the treetops of Central Park or in the bowels of the Manhattan subway system, Max and her adopted family take the ride of their lives.
http://www.maximumride.co.uk/audiovideo.php?vid=1

The first book in the new Eoin Colfer series W.A.R.P. has arrived. Come and check out 'The Reluctant Assassin' in the Discovery Library.
BARRY LOSER notebooks
If you love the Diary of a Wimpy Kid series, the Barry Loser notebook series is a must read!

The first two books are available to borrow now in the Discovery Library:
I Am Not A Loser

by Barry

Loser spellchecked by Jim Smith, was shortlisted for the Waterstones Children's Book Prize 2013.
I Am Still Not A Loser

by Barry Loser commas put in by Jim Smith, winner of the Roald Dahl Funny Prize 2013.

You

suggested we buy the next set of books in the Girls FC series by

Helen Pielichaty

so we did! Check them out in the

Discovery Library

.

Victorian Adventures
We have two new excellent adventure stories set in Victorian London!
The Claws of Evil
is the first in a new series called

The Battles of Ben Kingdom

by Andrew Beasley. When the hero, Ben Kingdom, a cocky street urchin, finds a mysterious coin he is transported to another world where he must battle to save the world – but which side will he choose? To watch the official launch video of the series visit http://www.youtube.com/watch?v=G3wRMMsjZe8.
From the author of 'Mortlock' and 'The Demon Collector' we have 'The Bonehill Curse', Jon Mayhew's final novel set in this dark Victorian world.
Necessity Bonehill is arrogant, a bully and trapped in Rookery Heights Academy for Young Ladies. Bored and aimless, she spends her time training with the retired, and slightly insane, Sergeant Major Morris or fighting with the local peasant boys. So when her Uncle Carlos sends her a seemingly empty bottle with the instructions, "Never open it," she can't resist the temptation and pulls the cork.
But Necessity unleashes an evil genie, a demon of pestilence and a creature that bears her parents a terrible grudge. With only seven days to rescue them, Ness has to find out how to kill the genie. She begins a desperate quest that takes her through the dark streets of London and to the Oasis of the Amarant in uncharted Africa. If she fails, her parents die and the world will fall prey to the genie's hideous plague.
The Great Unexpected by Sharon Creech
In the little town of Blackbird Tree live two orphan girls: one Naomi Deane, brimming with curiosity, and her best friend, Lizzie Scatterding, who could talk the ears off a cornfield. Naomi has a knack for being around when trouble happens. For she knows all the peculiar people in town—like Crazy Cora and Witch Wiggins and Mr. Farley. But then, one day, a boy drops out of a tree. The strangely charming Finn boy. Then the Dingle Dangle man appears, asking all kinds of questions. Curious surprises are revealed—three locked trunks, a pair of rooks, a crooked bridge, and that boy. Soon Naomi and Lizzie find themselves zooming toward a future neither could ever have imagined. Meanwhile, on a grand estate across the ocean, an old lady whose heart has been deceived concocts a plan. . . .
Yay!!!! We have the next set of books in the Summer Camp Secrets series by Melissa J Morgan.
The History Keepers
We now have all 7 of the Baker Street Boys titles by Anthony Read a thrilling new adventure series based on the "Baker Street Irregulars" from the classic Sherlock Holmes novels.
#Detectives #Adventure #History #SherlockHolmes #VictorianLondon

We now also have the next two installments of the Witch and Wizard series by James Patterson
The Gift

and

The Fire

. If you are interested in witch hunts this is the series for you!

War Stories
Moving, thought-provoking and inspiring stories:
A Medal For Leroy by Michael Morpurgo was inspired by the life of Lieutenant Walter Tull, the first black officer in the British Army.

It tells the story of Michael and his quest to find out about his father, an RAF pilot killed in the War, who he has never met.

War: Stories of Conflict edited by Michael Morpurgo.

Specially commissioned by Michael Morpurgo during his time as Children's Laureate, this collection of stories by leading children's authors tell of the drama, cruelty and courage of war as well as the consequences.
Soldier Dog by Sam Angus.

Set against the backdrop of the trenches in France during World War 1, this book is based on the real life experiences of animals who gave their lives in war.

Lovereading4kids describes it as "a powerful story which brings history to life for the reader".
Magical mythical stories
Reality collides with the mythical world and Emily has some fantastical adventures with Pegasus the winged horse. Enter the world of Kate O'Hearn in the new Pegasus series ....
Award winning information books!
Winners of the SLA Information Book Awards, these books are packed full of great ideas and top tips.
Lovely new yucky Horrible Science book

Not to be missed Graphic Novels!
The graphic versions of these classic novels are action packed and fast moving! Choose from:
Funny books

Pants Are Everything ….when you're definitely NOT a nudist
by Mark Lowery, is the very funny follow up to Socks are not Enough.

Teenager Michael Swarbrick finds himself caught up again in a series of uncontrollable events that could ruin his life!
Ishmael and the Hoops of Steel

by Michael Gerard Bauer is the third and final book of Ishmael's hilarious school misadventures.

The Ishmael books deal with growing up issues such as school-life, friendship and bullying in an amusing way.
Dear Diary ….
We have two different diaries:
Tom Gates
We bought two of the Tom Gates books by L Pichon to see if you liked them. They are

ALWAYS

on loan so we are guessing you do. We have bought four more in the series and they are in the Discovery Library now.
Your wait for the next book in your favourite series is over!